Mirror Image ~ A time-warped tale of danger and adventure.
A book by Barb Held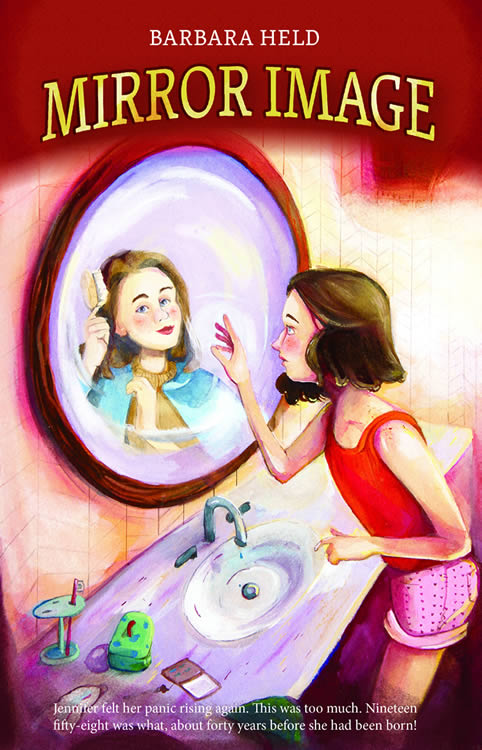 Historically accurate.
Ideal reading for middle grades.
After a fight with her mom, eleven-year-old Jennifer is sent back in time fifty years. A city girl, she discovers she is now on a farm in Wisconsin. Petrified and confused, she tells her "new" parents she is not their daughter, Julie, but they do not believe her. Diagnosed with amnesia, Jennifer plays along, rather than be called crazy. What would happen to her if they thought she was crazy? After meeting Julie's best friend, Grace, the two try to solve Jennifer's problem.
Before figuring out how to get home, Jennifer finds herself further back in time to 1902. She is now on an impoverished farm with difficult chores and "new" parents. The man who thinks he is her dad is mean and she again pretends amnesia. How will she survive this way different life?
How had Jennifer been transported back in time? Why did it happen? Will she be able to get back home again? Or, will she be sent to yet another time period?
Jennifer felt her panic rising again. This was too much. Nineteen fifty-eight was what, about forty years before she had been born! She turned her back to Harriet and Norman, and put her head against the wall, willing herself to stay calm.
"Barb Held's book, "Mirror Image," will be a hit with kids--and adults--who enjoy stories about time travel. The transitions between jumps in time are smooth, the characters exude with emotion, and the historical facts about life in each time segment are accurate. I give it a thumbs up rating.
Sally Bair, author. sallybair.com"
"I received your book in my mailbox yesterday and read it today. I loved it! I cried at the end. What a wonderful, interesting, educational, positive, faith-filled and cool story for young people to read and take into their own hearts and hopes. Thank you so much for writing this and publishing it." Sharon Rigby Osborn